Rubber Pre-Heating Oven
Rubber Pre-Heating Oven
Vulcanization is a chemical process for converting rubber or related polymers into more durable materials through the addition of sulfur or other equivalent "curatives." These additives modify the polymer by forming crosslinks (bridges) between individual polymer chains. Vulcanized materials are less sticky and have superior mechanical properties. A vast array of products is made with vulcanized rubber including tires, automotive weather strips, sealings, shoe soles, hoses, and hockey pucks. The process is named after Vulcan, the Roman God of Fire.
Uncured Natural Rubber is sticky, deforms easily when warm, and is brittle when cold and hence is very poor in elasticity. The reason for inelastic deformation of un-vulcanized rubber can be found in its chemical structure. Rubber is composed of long polymer chains. These chains can move independently relative to each other, which lets the material change shape. Crosslinking introduced by vulcanization prevents the polymer chains from moving independently. As a result, when stress is applied the vulcanized rubber deforms, but upon release of the stress, it reverts to its original shape.
---
Microwave Vulcanization Ovens – Microven
Rubber vulcanization has been a vastly popular application of Microwave Heating. The Bulk heating property of Microwaves combined with the rapid heating phenomenon makes Microwave Heating an ideal choice for rubber and rubber like materials. Rubber being a bad conductor of heat, any method of heating rubber relying on the conductivity of it scores a point lower compared to Microwave heating because Microwaves penetrate the rubber and heat the material from core to surface simultaneously. Most common and widely proven application of Microwave Heating is for the vulcanization of Automotive and Construction rubber profiles. Microwave Heating has been proven to be equally suited for Sponge, Solid and Co-extruded profiles. Since this is one of the well proven applications, there is rarely a need for any labscale or prototypes. Enerzi offers a range of Continuous Microwave Rubber vulcanization ovens for a range of rubber profiles.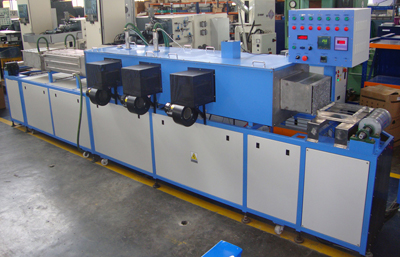 Salient Features
Throughput of 50 to 500 kg/hour
Hot Air Circulation of 100 to 1000 cfm
Typical cross section of 250 mm (W) x 200 mm (H)
Maximum Process Temperature from 100 to 400 deg. C
Hot Air Temperature Control from 200 to 300 deg. C
Installed Microwave Power of 1.45 kW to 29 kW
Step-less Power Control using Microcontroller Module
Digital display of Power and Temperature
Conveying System with speed controls from 2 to 50 m/min
Highly Integrated Interlocks with a Remote Control Panel
---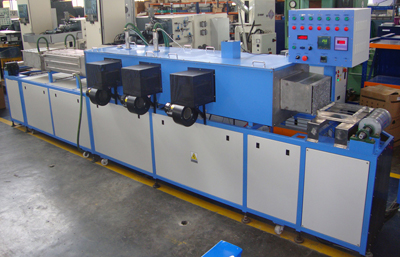 Rubber Profile Extruder
Being a one stop solution provider for variety of rubber extruders (screw dia ranging from 40 mm to 145 mm), Enerzi delivers compact and realiable extruders as well as machines equipped with the latest development in control systems and designs. Our extruders provide high screw torques just as variable screw speed ranges. We thus guarantee a wide production range without compromising quality. Enerzi rubber extruders possess the latest extrusion unit design and control system for all machine parameters. Excellent design of systems to achieve the best dimensional stability at highest productivity, makes our products unique.
---
Infrared Shock Oven
The new Enerzi Infrared Shock tunnel is highly efficient for the pre-vulcanization of profiles and hoses. Arranged between the rubber extruder and the continuous vulcanization line, the high power infrared radiation pre-cures the surface of the rubber products. This is related to a better dimensional stability and an excellent surface quality. This process is ideally suited for Sponge profiles, but solid profiles derive an equally useful advantage as well. Typically these systems are about one meter long and have got a heating capacity of about 30 kW.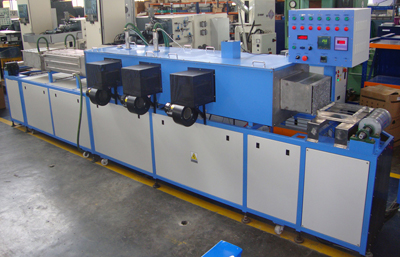 ---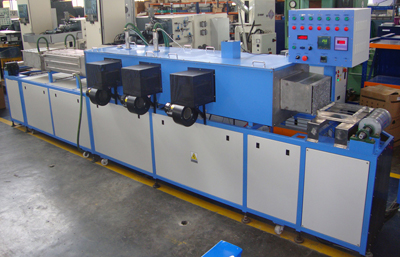 Microwave Vulcanization Ovens
Microwave radiation penetrates the rubber and heat the material from core to surface simultaneously and hence microwave curing is very fast. Microwave heating has proved suitable equally for sponge, solid and co-extruded profiles. These ovens are available in 4 different capacities namely 4, 6, 8 and 10 station ovens, where the stations indicate number of microwave generators each having 1.45 kW. Our microwave generators are designed with state-of-the-art features and are well proven in the rubber industry since 2005. These ovens are designed with utmost care to minimise microwave leakage.
---
Hot Air Ovens
Hot air tunnels are used especially for curing or rather post curing of rubber profiles, insulation hoses and other special products. Hot Air Tunnels unlike their counterparts i.e. Microwave Ovens or Shock oven, do not have any high frequency heating. Rather these ovens have a heated air circulation with the help of a blower. These Ovens are similar in design to the Microwave Tunnel Ovens and serve the purpose of final curing / Post curing of rubber profile after initial curing in Microwave Oven / IR oven.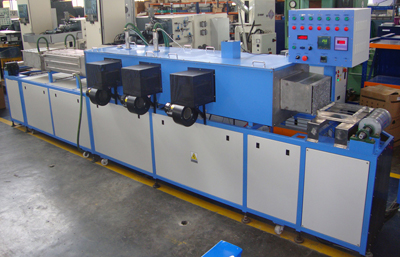 ---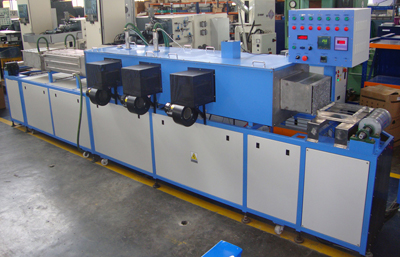 Caterpillars
Caterpillars form an essential subsystem in the scheme of the complete lines. This unit helps in retaining the tension of rubber profile along the line. Depending on the speed of production and profile sizes, the Caterpillars are designed from 36" to 100" belt length and even higher. Enerzi specializes in providing unique designs of Caterpillars to suit a variety of Rubber Profile manufacturing lines.
---
Cooling Tunnels
Cooling tunnels are primarily used in the commercial processing of rubber. Cooling tunnels use a conveyor system, mostly rollers to pull the product through the refrigerated tunnel. There are continuous as well as discontinuous cooling systems, depending on what is required. Continuous cooling involves moving the product until the required temperature is achieved, whereas discontinuous cooling is when the tunnel provides different cooling down periods through pallet and tray forms. Chilled DM Water is usually used for cooling Rubber Profiles and the system length varies from 3 to 10 meters depending on the throughput of the production line.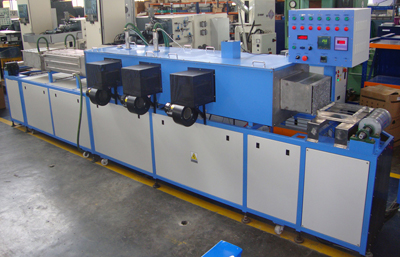 ---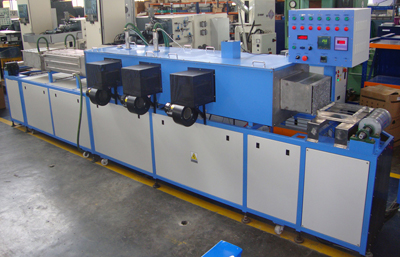 Coiling / Winding Machines
Coiling or Winding machine is used in cases when the Rubber Profile produced from the Vulcanisation line is to be stocked in full length of 50 or 100 meters. The Coiling machines are designed to function reliably in synchronisation with the rest of the Vulcanisation line so that the coiling can take place in synchronization. Enerzi manufactures and supplies a variety of Coiling machines based on the requirement of rubber profile size, capacity of the spool etc.
---
Cutting Machine
Cutting Machines are used to cut the rubber profile to the final lengths. The cutting can either happen on the rubber profile which is coiled on a spool or it could take place online in the production line. There are three main variants of the Cutting machine that our company manufactures; Manual, Semi-automatic and Fully automatic Cutting Machines. These machines use State-of-The-Art Control features and the use of precise pneumatic controls for Cutting the Rubber Profiles.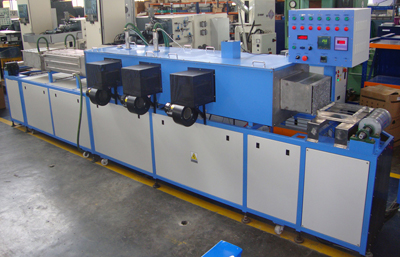 ---
Enerzi Microwave Systems Pvt. Ltd.
is the leading brand in manufacturing of industrial Microwave Heating Systems. Enerzi is proud to be India's pioneering innovator in the application of interdisciplinary engineering knowledge to develop a variety of Microwave Heating applications.
more...